Staff
Peter Palermo
Director
(618) 537-6097

Peter Palermo has been Director of the Russel E. and Fern M. Hettenhausen Center for the Arts since 2006. He has been a theater production professional for over 20 years, has produced and managed performances in 30 states and two continents. Palermo works closely with the performing arts students and faculty to support student concerts and productions. He also manages the artist selection, scheduling, promotion and production for the University's season of public events, McKendree Presents.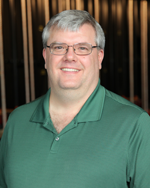 Douglas S. Magnussen
Technical Director
(618) 537-6551

Doug Magnussen has been working at the Hett since before its opening in 2006 as Technical Director. Doug hails from the University of Louisville programs of Fine Arts and Theater. He is also an ETCP certified rigger, and works with every performance, recital, and gathering that uses the Hett stage.
Assistant Director of Patron Services
(618) 537-6863