Faculty Resources
Writing Presentations

Offered every semester, writing presentations are conducted by the Writing Center Director.  I have two presentations I offer, listed below, but I am happy to create a presentation specifically catered to the needs of your students.

Presentation Option 1: Writing Center Overview
This presentation covers general information about our resource, such as how to make and prepare for an appointment. It is a great presentation for first-year students.
Presentation Option 2: Writing Center Myths
This presentation is designed for returning students who likely know the general information about the WC. It explores and breaks some common Writing Center myths that might keep returning students from visiting this resource.
Presentation Slides

I have a number of presentations created using Prezi that I use in my classroom, from topics such as proofreading strategies to MLA citations. I am happy to share links to these presentations for use as a resource in your classroom, and I am happy to create a presentation to share with you. If interested, please contact me.

Plagiarism Resources
Plagiarism Prezi:
Created by the Director of the Writing Center, this presentation can be used by a McKendree professor for use in the classroom. In the style of a game called "Plagiarism or Not Plagiarism" you can quiz students on some common forms of plagiarism. Click on the image below to begin the presentation.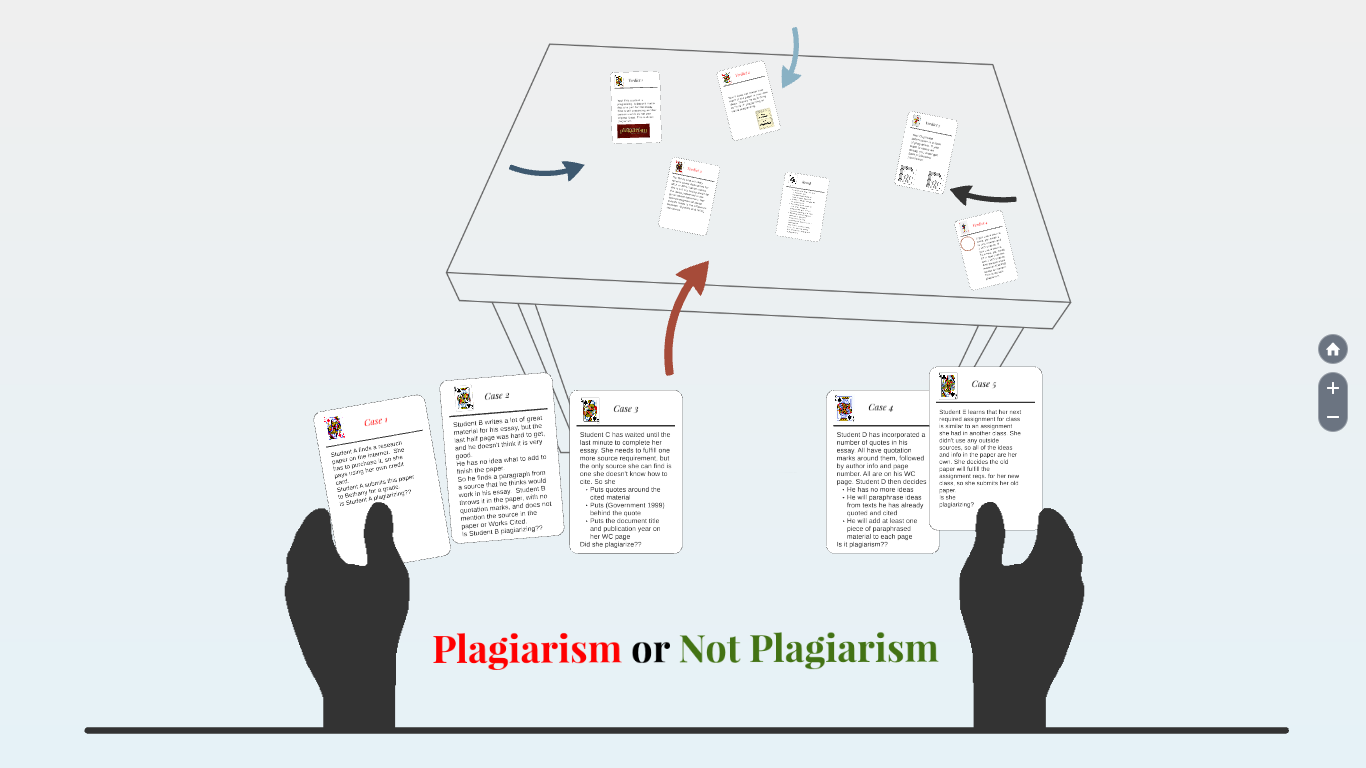 McKendree University Academic Honesty Policy

The following text is a direct excerpt from the McKendree University Undergraduate Catalog.

"In order to benefity fully from the McKendree Experience, students must exercise integrity and honesty in all aspects of their academic work. Some examples of academic dishonesty are cheating, sabotage, duplicate submission, and plagiarism.
a. Cheating involves many forms of misrepresentation such as sharing exam answers, copying another student's answers, presenting another's work as one's own, changing work which has been graded when the work is going to be reevaluated, having a stand-in take an exam, and using unauthorized examination aids.

b. Sabotage involves the destruction or deliberate inhibition of another student's academic work or the destruction of materials relied upon by other students such as library materials, computer software and hardware, and computer files.
c. Duplicate submission means the submission of the same work in two different courses. This is not permitted except when permission has been given by the instructors in the courses involved.
d. Plagiarism consists of presenting the words or ideas of another without proper acknowledgement. This applies to direct quotations, paraphrases, or summarized ideas."
Additional Resources
On appointment forms, students have the option of marking some items they wish to discuss during the appointment. Included in that list are:
Integrating sources in my paper
Documenting sources with MLA
Documenting sources with APA
Documenting sources with ASA
Documenting sources with Chicago style
Documenting sources with another citation style
Avoiding plagiarism
Choosing one of those items is often a good way to discuss source attribution.
The following list of resources are not McKendree affiliated, but could potentially be useful as extra plagiarism resources.
Cornell University Plagiarism Tutorial offers a variety of writing excerpts, original quotes, and source information. Each combination of information is followed by a question regarding proper source usage.
Wayne State University's Plagiarism Quiz covers general misconceptions and scenarios related to plagiarism.