Student, Father, & Military Veteran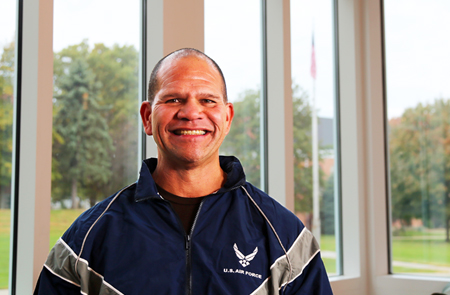 Keo Mills '14 is a former Air Force master sergeant who retired in 2006 after a 24-year career in satellite communications for the military. At age 47, he enrolled in a local community college at the same time as his oldest daughter. Keo received an associate's degree in 2012, transferred to McKendree and quickly embraced college life.

Keo is a pro-active Student Government Association senator, representing non-traditional students like himself. Proud of his Hawaiian heritage,he is easy to spot in his aloha shirts or the purple lei he wears when singing in the Concert Choir. At McKendree football games, he is the friendly guy who always prepares and serves food - not as a student but as a band parent. Twin daughters Hanalei and Maile, also McKendree undergraduates, play in the Band.

Keo and his daughters have been in a few classes together. "As a classmate it's nice to be felt as an equal, non-authoritarian partner in group settings and activities. As a dad, I'm proud to see them excel here.

"In one word, my experience here is FAMILY!" he says, with characteristic enthusiasm.



"I really do believe we as Bearcats are a close family - I don't know how else to describe it. I feel this was a great calling for me to attend McKendree."
 
After he graduates in December 2013, Keo hopes to apply his education to a new career in management training or as a probations officer.

About Keo


• Criminal justice major from Mascoutah, Illinois
• Retired U.S. Air Force Master Sergeant
• Dean's List
• Student Government Association senator
• Concert Choir tenor
• Band parent volunteer
Learn more about McKendree University, Military & Veterans' Services, or the Criminal Justice program.