Joseph Gebke '16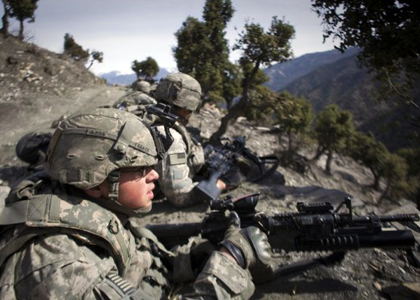 Athletic training major from Breese, Illinois

Army veteran

Raised almost $2,000 for the Wounded Warrior Project

Member of the band "Almost Nameless"

Participant in Clinton County Showcase theater group

Like many other students at McKendree University, Joseph Gebke '16 took University 101, participated in the homecoming parade, and will soon graduate with his degree. However, there is one major difference between Joe and most of his classmates. When he graduated from high school in 2007, Joe enlisted in the military and went straight to basic training in Fort Benning, Ga. Shortly after, he completed two tours in Afghanistan and served as a squad leader during his second tour. In 2012 Joe's military service was complete and he set his sights on a college degree.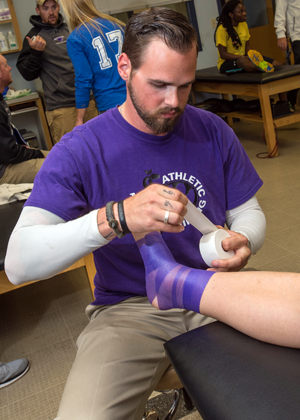 Joe chose to study athletic training simply because he "enjoys helping people out." He says he "likes all aspects of the field: Rehab, designing programs for athletes, and instructing patients on basic exercises to help prolong their physical capabilities into the later years of their life."

When asked about his future goals, Joe said, "After graduation and certification, a classmate and I are looking into working for Cirque de Soleil." Later on, Joe sees himself returning to work for the military as a civilian.

Because of Joe's military background, his University 101 class had the opportunity to make a real impact for soldiers overseas. "We collected about 30 boxes of care packages to send to soldiers on the line and actively engaged in dangerous situations," he said.

How has Joe's military service affected his life as a McKendree student?

"My military service taught me to stay quiet and observe my surroundings and to follow before leading. I was more often in the background before stepping up in classes and feeling comfortable to do so."
Joe offered advice for other veterans who may be considering going to college. "My advice for veterans starting school is not to get bothered by the younger students they will interact with. I am only five years older than my classmates but I felt much more mature having been in life or death situations. Also, do not be afraid to reach out to other veterans in the community," he said.

"And if there are any veterans, young or old, that are looking for someone to relate to in the school setting, they can reach out to me."

Learn more about McKendree University and Services for our Military community.
Make It McKendree  Apply Today!