Emily Barylske '21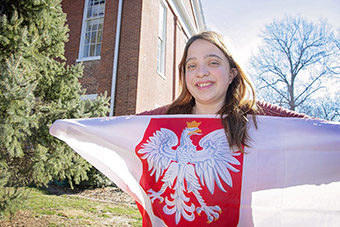 Psychology major from Benld, Illinois

Member of Phi Eta Sigma National Honor Society

Manager for the men's volleyball MIVA team and women's volleyball NCAA team

Bearcat Sports Information student worker

Participates in the McKendree Choir

Volunteer assistant with McKendree theatre productions

Summer 2018 mission trip to Poland
by Stephanie (Coartney) Dulaney '10

Emily Barylske's '21 McKendree experience and a unique summer mission trip to Poland have taught her that when you trust your heart and lean on your faith for guidance, your life can lead you down incredible paths you never saw coming.

A sophomore psychology major, Emily has always valued community, whether it's family, peers, or people from all different walks of life who share in a common belief. That strong sense of community first led her to choose McKendree as the place she knew she wanted to attend. "What attracted me to McKendree was the family atmosphere, and how safe I felt on campus when I visited," she said. "Another thing was when the Athletic Department secured me a spot working with volleyball shortly after I was accepted. It gave me a sense of belonging."

As a student, Emily immediately threw herself into campus life, gaining experience managing the men's and women's volleyball teams and helping Sports Information cover home athletic games. Fast forward to her sophomore year and she found herself speaking to a room full of faculty, staff, and students to share an unforgettable experience with the community she values so much.

Emily gave a campus Brown Bag presentation on her summer 2018 mission trip to Poland, her first international service trip. She spent two weeks in the central European country leading a group of 7-9 year old children in Vacation Bible School and exploring echoes of the Holocaust that still remain so ingrained in the Polish landscape. While guiding the children in hands-on activities with a Christian message, Emily faced language barriers and had to rely on native Polish translators for help. She struck up a close friendship with Zuza, one such translator who came to church with Emily for the first time on her last day in Poland.

"It's important for me to do mission work like this because it really opens my eyes to others around me and their faith. It's also showing discipleship, and your willingness to follow God's commands no matter where he takes you."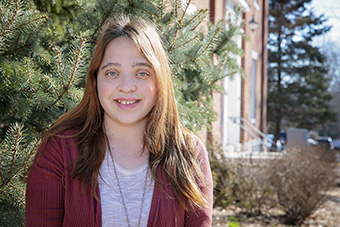 In addition to mission work, Emily also visited several remnants of the Holocaust, including Auschwitz and Birkenau concentration camps. In the town of Kielce, she and her group stayed in a hotel that faced an abandoned Jewish synagogue, whose barred windows and scrawled Stars of David served as a reminder of the Jewish ghetto that once existed there.

The experience changed Emily's view of the world and her faith. She discovered yet another community where she felt she belonged. "I saw faith in motion," she said. "When singing with the churches there, we were all there singing in different languages, yet worshiping one God. I hope that my Brown Bag presentation wakes some people up to where God is calling them to go, and where he wants them to serve."

Emily plans on one day landing a career as a high school guidance counselor, helping more young adults find their way through life's opportunities and challenges. "Throughout all of this, I hope to continue traveling and exploring the world, sharing the word of God, and keeping up with my McKendree family," she said.

Learn more about McKendree University.
Make It McKendree