Sara Miller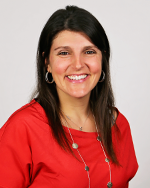 Competitive Dance Team Head Coach
Assistant Spirit Coordinator
Office: Clark Hall, Lower Level
Email: skmiller@mckendree.edu
Education
A.A.S., Exercise Science, Lewis & Clark Community College (pending)
Hickey Business School
About Sara

Sara Miller joined McKendree University in 2016 as head coach for the competitive dance team and the assistant spirit coordinator.  Previously, she served as the head varsity coach at Alton High School for 5 years and dance coach for the Dazzlers Dance Team in Calhoun County.

Sara began dancing at the age of three.  She is trained in the styles of jazz, ballet and lyrical.  She danced competitively until 2000 when she began teaching and coaching for several teams. While teaching Sara won various high point choreography and overall awards for talents.  During her time as the head coach for AHS she was able to transition the program from a performance team into a competitive team. In the winter of 2015, she led her team to UDA Nationals, a first for the high school.

Miller is originally from Alton, IL and is an ASCEP certified coach and continues working on completing her degree in kinesiology and continues to better herself as a coach each season.  
Professional Organizations & Memberships
ASCEP