Pre-Professional Studies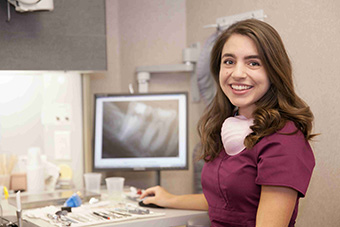 by Stephanie (Coartney) Dulaney '10
photo taken in 2017

The path to a career in the medical field may feel daunting, but you don't have to walk it alone. At McKendree, you'll find everything you need to prepare you for graduate school and beyond, from expertly designed coursework and outside-the-classroom research opportunities to personalized guidance from faculty. When you choose to minor in our Pre-Professional Studies program, you'll gain the skills and support to land your ideal job as a medical professional.

Fulfilling Careers that are Always in Demand

Students in McKendree's Pre-Professional Studies program find careers in medicine, optometry, dentistry, pharmacy, physical therapy, physician's assistant, podiatry, chiropractic, and veterinary medicine. As medical technology continues to advance at a rapid pace, professionals in these fields are consistently in high demand. Although further education through medical/dental school or other graduate programs are required, medical professionals earn much higher than average salaries and enjoy a fulfilling career helping others live to their full potential. Strong job security, along with these added benefits, make the medical field an excellent choice for a career path.

Unique Research Opportunities and Connections with Faculty

At McKendree, you'll start building your resume early through exciting research projects and one-on-one work with your professors. Currently, our faculty are actively researching such topics as what species of bees occupy rare prairie habitat in Illinois, the effects of ice-angling on sportfish, and respiratory sinus arrythmia in swimmers, non-swimming athletes, and non-athletes. Our students in Pre-Professional Studies often complete research of their own, either in projects alongside their professor, or in a new area while still benefitting from the support of faculty.

"Typically students working on a research project will develop their own research question and then work with their faculty mentor to design and implement methods, collect and analyze data, and put together a paper or presentation," said Dr. Angie LaMora, associate professor of biology. A couple examples of research our students are currently working on include an investigation of bee diversity in the forests of Tati-Yupi at a restoration site in Paraguay, as well as an analysis of historical data from local streams to determine the health of fish communities.

Personalized Guidance Fully Prepares You for the Career of Your Choice

No matter which area of medicine you'd like to pursue or even if you're still undecided, your McKendree professors are here to assist you every step of the way. Not only are they accomplished in their own areas of study, but they're also experienced in helping students through the process of applying to graduate school, studying for professional exams, and so much more.

"Our Pre-Professional Studies minor gives students pre-requisite coursework, our research programs allow them to innovate, and they're paired with an advisor who can coach them through professional exams (such as MCAT), service hours, research activity, and the application process," said Dr. LaMora. Many faculty know their students so well that they forward them opportunities they come across through their own connections if it matches with a particular student's interests.

McKendree alum Alexandra Nash '17 graduated with a Bachelor's in Biology and is now a dental student at Southern Illinois University School of Dental Medicine. She credits the faculty in the Pre-Professional Studies program for setting her up for success in her graduate work and future as a dentist.

"The professors at McKendree University dedicate themselves to their students and student learning, and they were always supportive of my goal to enter dental school," said Lexi. "When I started dental school, I remember thinking how thankful I was for completing the Biology curriculum at McKendree. It gave me a strong foundation in science and challenged my critical thinking skills, both of which are necessary for success in dental school. In addition, McKendree provided me with many opportunities to get involved outside of the classroom in research, student work positions, community service, and extracurricular activities, which allowed me to learn about and better balance my time management and leadership skills. In dental school, I'm grateful to currently hold several leadership roles and participate in community service and research outside of the clinic and classroom with my professors and classmates."

McKendree Student Internship Experiences and Graduate Schools Attended

Even before Lexi graduated from McKendree, she had already gained significant job experience as an intern and later full-time dental assistant at a local endodontics office. She job shadowed professional dentists, worked with real patients, and even participated in a charitable event that provided free basic dental care to those in need. All of these experiences solidified her decision to pursue dentistry and gave her a head start on developing valuable on-the-job skills.

Other examples of places our students have interned include:


Disney College Program

U.S. Army Corp of Engineers

St. Louis Zoo

Research Experiences for Undergraduates (REC) program at Southern Illinois University

Mosquito Research and Control Unit in the Cayman Islands
Our Pre-Professional Studies students have also been accepted to a wide range of prestigious graduate schools, such as:


Texas Tech University- Master's in Ecology program

Oklahoma State University- Master's in Ecology program

Johns Hopkins University- Accelerated Nursing program

Southern Illinois University School of Dentistry

California State University, Northridge- Master's in Biology program

University of Alabama- Master's in Forensic Science program
"Find your goal, keep positive, and stay the course!" Lexi reminds all students considering a career in the medical field. "It seems like a long journey, but you'll learn and experience so much along the way, and it's incredibly rewarding to one day care for and serve patients and your community as a health professional."
Make It McKendree  Apply Today!