Biochemistry Minor
Are you majoring in either Biology or Chemistry and want to expand your knowledge base with the fascinating study of life at the molecular level where biology meets chemistry? Come and join the Biochemistry minor at McK!

What do you gain with a minor in biochemistry?


Provides wider range of career opportunities in the rapidly advancing fields of research in pharmaceutical and biochemical technology including:
Pharmaceutical/Medicinal Chemistry
Molecular Modelling & Drug Design
Genomics & Proteomics
Pharmacogenomics
Bioinformatics & Biotechnology
Prepares for graduate programs in:
Biochemistry
Biochemical Technology
Biomedical Sciences
Pharmaceutics and Drug Design
Prepares for professional schools such as:
Medical school (raises the MCAT score in biochemistry section)
Pharmacy school
Dental school
Program Curriculum

Biochemistry is an interdisciplinary program with the inclusion of select fundamental courses from biology and chemistry programs in addition to two core courses:
Principles of Biochemistry
Introduction to Molecular Modelling and Bioinformatics
Program Highlights

Focus on computational skills
Using interactive 3-D molecular graphics and modelling software
Bioinformatics tools and web resources
Focus on research
Completion of molecular modelling projects
Opportunities for Internships/Fellowships
Internships in regional biochemical companies
NSF REU program scholarships at national research universities in summer.
Employment

Biochemistry minors are prepared for employment in pharmaceutical and biochemical technology companies, for graduate study in Biochemical Sciences, and for professional studies in fields such as medicine, pharmacy, dentistry, optometry or veterinary science.

Some of the companies that our graduates are working for include:
Forensic Lab of Missouri State Highway Patrol
Sigma-Aldrich Company (6)
Small Molecule and Inhalation Product Testing Services PPD LLC.
Georgia Southern University
Some of the graduate schools that our recent graduates are enrolled in include:
Kansas State University
Louisiana State University
Notre Dame University
Southern Illinois University School of Dental Medicine
Alumni

"I started the biochemistry program not knowing what to expect. I had no idea that this program would shape my way of thinking the way it has. Through the challenging courses, I was able to research and learn about proteins and other biomolecules in a way I didn't know I was capable of. Dr. Ozturk has expanded my thought process and has taught me to be the best that I can. Throughout my time at McKendree I gained many friends with my classmates and faculty that I will carry with me forever."
~ Neil Berkel '15, Ph.D. student in the Chemistry program at Notre Dame University


"I have always enjoyed chemistry more than biology, and I didn't want to take extra classes that dealt with biology. I listened to some great advice to earn a biochemistry minor. It helped me tremendously in the job market. Today, I work in the biochemistry field. The knowledge I have gained has been very useful during processing and troubleshooting purification of multiple proteins."
~ Tara Stacey '14, Production Chemist at Sigma Aldrich
Meet the Faculty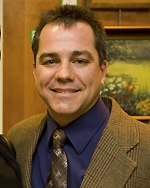 Dr. Robb Van Putte
Professor of Biology
Voigt Science Hall 218
(618) 537-6930
rdvanput@mckendree.edu
Continue Your Story  Apply Today!