Campus Activities Board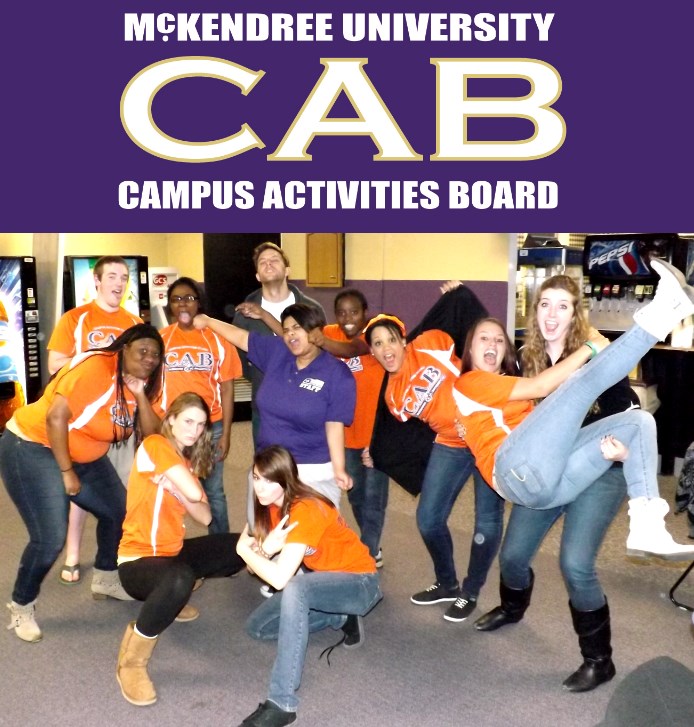 The McKendree University Campus Activities Board (CAB) has maintained a reputation as one of the best organizations at McKendree; planning and executing alternative and diverse social, recreational, multicultural, and educational events for both the campus and community. CAB consists of an Executive Board and general members, allowing for students to network with professionals in the work force, while gaining personal growth in leadership skills, programming, and team creativity.
CAB plans events that appeal to a college community of more than 1,500 students, including campus-wide traditional events, including Homecoming, Family Weekend, and Spring Fling.  Through our efforts, we aim to create a positive experience for both our members and the students we serve; thus enhancing the campus experience at McKendree University.  Meetings are conducted weekly between members to discuss information relevant to scheduled performers, events or activities.

GET INVOLVED WITH CAB!
If there's something happening on campus, chances are it's a CAB event!  We make sure there's always something to do at McKendree University.  Our students always have great ideas for events.  If you have ideas on events that you would like to see on campus, consider joining one of our committees!  Our student members help plan events, create publicity for events, and assist with the running of events. 
Requirements include attending weekly Monday meetings to discuss information relevant to scheduled performers, events or activities, and assisting with a minimum of 3 events per month to remain as an active member.  CAB staff must also attend two mandatory training retreats - one each semester.  Click the 'Join Our Staff' link on the upper left to get more information and to apply.

The Campus Activities office is located in the Deneen Center Lower Level – The Lair.  Office Hours are Monday - Friday, 9:00am – 5:00pm.  For more information about Campus Activities Board, contact Craig Robertson, Director of Campus Activities, at (618) 537-6856.