Wing Thing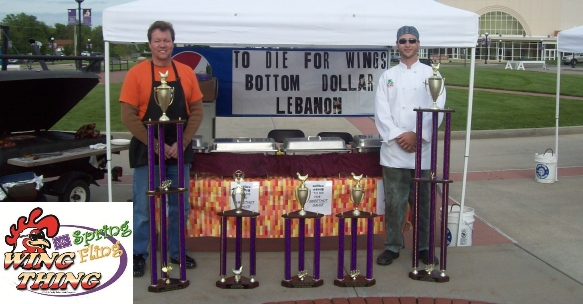 Unfortunately, we did not get enough participants for this year's competition.  This year's Wing Thing will not be held, but we are hopeful for next year's event.  If you would like to be part of next year's competition, please see the information below.

The 6th Annual Spring Fling Wing Thing brings restaurants and businesses from the local area together to compete for prizes in a variety of categories:
Chicasso - Best Creative Wing Flavor

Hot Chick on Campus - Best Buffalo-Style Hot Wing

Best Finger Lick'n Chicken - People's Choice

Bearcat Best Wing - Best Overall Wing ($300 Cash Prize and Traveling Trophy)
This will be a great opportunity for participants to showcase themselves to the campus community and prove that they have the best wings around.  This event is held in conjunction with McKendree's Spring Fling, which will include inflatables, games, music, and the wing bobbing contest.
As you know, everyone loves wings, and everybody has an opinion about their favorite style, their favorite place to eat them, and their favorite way of preparing them. There are so many options of flavor – from the traditional Buffalo-style to sweet & sour, to who knows what! Discussions about wings can bring talk more heated than the wings themselves. We hope that you take the opportunity to let your wings do the talking.

Proceeds Benefit
Proceeds will be donated to Bearcats After Dark.  This is an initiative to promote on campus weekend and late night programming for McKendree students.  Unfunded Registered Student Organizations in good standing at McKendree will be able to apply for funds to host a weekend or late night activity that is available to all students on the Lebanon campus..

Got Wings?  Want to Sign Up?
If your restaurant or business in interested in entering the competition, please take a minute to complete the team application.  2014 Registration Packet
Past Participants:
Past participants have included:  Bottom Dollar Foods, Buffalo Wild Wings, Schiappa's, Jefferson's, 17th St. BBQ, and Mama Gusto's