HigherOne Partnership
DO NOT THROW AWAY THIS CARD!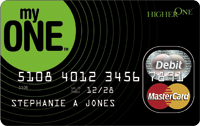 McKendree has partnered with HigherOne to offer faster refunds through the My One Card.
A My One Debit Mastercard will be mailed to all McKendree students at their permanent home address listed with the University.  DO NOT THROW THIS CARD AWAY!  It is NOT a credit card!

In order to receive a refund from McKendree, you MUST activate your My One Card and choose one of two methods to receive your funds. Funds you may be eligible to receive include student loans, tuition over-payments, deposits, and refunds for dropped classes and withdrawals. If you would ever be eligible to receive funds from the University, KEEP THIS CARD. 

Your two options for receiving funds include:
1. Funds directly deposited to your My One Debit Card via the OneAccount.- Received the same day they are disbursed
2. Funds directly deposited to a bank account of your choice. – Received in 2-3 days  
When you receive your My One Card, go online to www.MyOneMoney.com to activate your card.  If you do not activate your card, you will not receive refunds you may be eligible for . During card activation, you will choose from the two options mentioned above for receiving your funds. Please note that the card must be activated even if you choose to have funds sent to your existing bank account.  If you do not receive a letter, we may have an incorrect address on file.  Change of address form.

Your prompt attention to this matter is requested. Failure to have an accurate address on file with the University could result in lengthy delays of your refund. Refunds will no longer be sent directly from the University.

For more information about the My One Card, go to www.MyOneMoney.com or contact the Business Office at
(618) 537-6868.