2017 Golf Tournament
An Elite Golfing Experience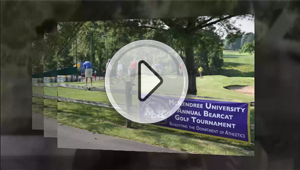 The 6th Annual McKendree University Bearcat Golf Tournament was held on Friday, June 16 at St. Clair Country Club in Belleville, IL. 
We are excited to report that the event will net over $87,000 of additional resources for McKendree Athletics. This revenue will help to upgrade facilities, purchase new equipment and increase recruiting resources so we can continue to attract premier NCAA Division II student-athletes.
Thank you to all of our sponsors and players! The student-athletes and coaches greatly appreciate your support of this wonderful event. 
GO BEARCATS!


 
 
 
 
 

Charles E. Brueggemann '88

Director of Athletics

 

Director of Major and Planned Giving