2016 Golf Tournament

An Elite Golfing Experience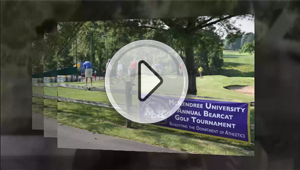 The 5th Annual McKendree University Bearcat Golf Tournament was held on Friday, June 17 at St. Clair Country Club in Belleville, Illlinois. Don't miss out on this memorable first-class experience and the opportunity to support the McKendree University Department of Athletics.

Each year, the Bearcat Golf Tournament benefits our outstanding student-athletes by upgrading athletic facilities, as well as purchasing new equipment for more than 750 student-athletes representing 34 sports programs.
We are excited to report that the event will net over $96,000 of additional resources for McKendree Athletics. These funds will help to upgrade facilities, purchase new equipment and increase recruiting resources so we can continue to attract premier NCAA Division II student-athletes.


GO BEARCATS!





 
 
 
 

Charles E. Brueggemann '88

Director of Athletics

 

Director of Major and Planned Giving