Avidity Independent Winter Guard
The Avidity Independent Winter Guard program is our newest and fastest growing addition to the McKendree University band program. Now in its second season at McKendree, the guard has expanded to two groups:
Avidity Independent Open Guard: An extremely competitive guard that rehearses on average 10-12 hours per week.
Avidity "A" Guard: Geared toward students who want winter guard to be a fun and relaxing activity. The group practices 4-7 hours per week.
Both guards perform in the Mid Continent Color Guard Association (MCCGA) and Midwest Color Guard Circuit (MWCGC), with the Open guard additionally performing in the Winter Guard International (WGI) circuit. Last year, the Open guard placed first in the MCCGA competition and tenth at the WGI World Championships in Dayton, Ohio. The "A" guard placed second in its class in the MCCGA competition. The guards have also competed in the St. Louis area, Springfield, Mo., Nashville, Tenn., Chicago, Ill. and Indianapolis, Ind. 
Scholarships   
Up to $4,000 available for McKendree students who participate in the fall Marching Bearcat Band Color Guard and the Avidity Independent of McKendree Winter Guard.
Please refer to Audition Requirements for audition information.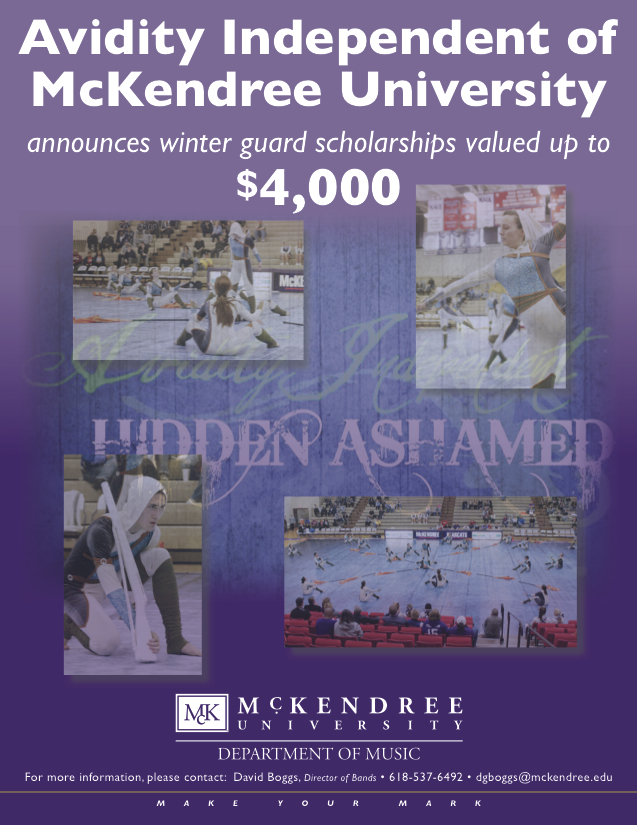 Links  
Mid-Continent Color Guard Association  
Membership Forms
Spin Clinics
Spin Clinic Frequently Asked Questions
What are the start and end times of the clinic?
Doors open at 8:30 and classes begin at 9.  The day ends at 5.
I am going to be teaching and would like to learn more to teach my students.
We will gladly help answer any questions you may have with instruction.  Whether it's ideas, or our philosophies.  Feel free to take anything that you learn from our clinics and utilize them in your program.  It's why we hold them.
What experience level do I choose on flag, rifle, saber, and dance?
We will be able to assist you in making the correct decision once you get in the door.  We offer a variety of classes and you are never held to a specific class.  We typically have several people that move from one group to the next during any given class.
Do we need to bring our own equipment?
We do have equipment, but are limited with numbers.  If you have equipment, please bring it.  We will fill in the rest.
Will this be indoor or outdoor?
The summer clinics are inside.  The November spin clinic is inside for the majority of the day.  There will be a performance outside for the home football game.
Will we have to perform?
We end the day with a "show and tell" of what you've learned throughout the day.   There is a performance for the home football game for the November spin clinic. No one is held to perform if they choose not to.
How many breaks will we have?
We have periodic breaks throughout the day.