Gallery Schedule 2013-2014 Academic Year
2013/2014 Exhibition Calendar
Thank you all for making the McKendree University Gallery of Art a success!
We appreciate your visits and comments.
The gallery will be closed for maintenance in June.
Please come back to see Mourners, an exhibition of drawings, July 1-27.
Meet the artists at the reception on Thursday, July 10 from 4-7 pm.
Have a happy and safe summer!
Diagrammatics of the Unreal: Carla Fischer Schwartz
November 1-24
Reception 4-7 Thursday, November 14
All Student Show
December 4-23
Reception 4-7 Thursday, December 5
Nancy Nichols-Pethick: Notes on a River
January 16-February 1
Reception 4-7 Thursday, January 23
Five Pairs of Eyes: A Photography Invitational
John Gardner, Bill Kniest, Don McKenna, Mary Ann Michna, and Chris Ruess
February 6-27
Reception 4-7 Thursday, February 20
Demonstrating a wide range of sensibilities and working methods, these artists bring their distinctive viewpoints to share with our gallery community. Above, left to right: Mary Ann Michna, Christopher Ruess, Bill Kniest, John Gardner, and Don McKenna.
Brian D. Smith: Abstract Painting
March 6-27
Reception 4-7 Thursday, March 20
Jeff Daniel, of The Saint Louis Post Dispatch describes Brian's work as "Fresh and challenging . . . his innate sense of movement and color seize the reigns."
All Student Show
April 24-26
Reception 4-7 Thursday, April 24 
A special reception will be held in coordination with McKendree University Academic Celebration Day events. Work representing other areas of study within the Visual and Performing Arts division will also be on display. Prepare for a delightful evening in the gallery!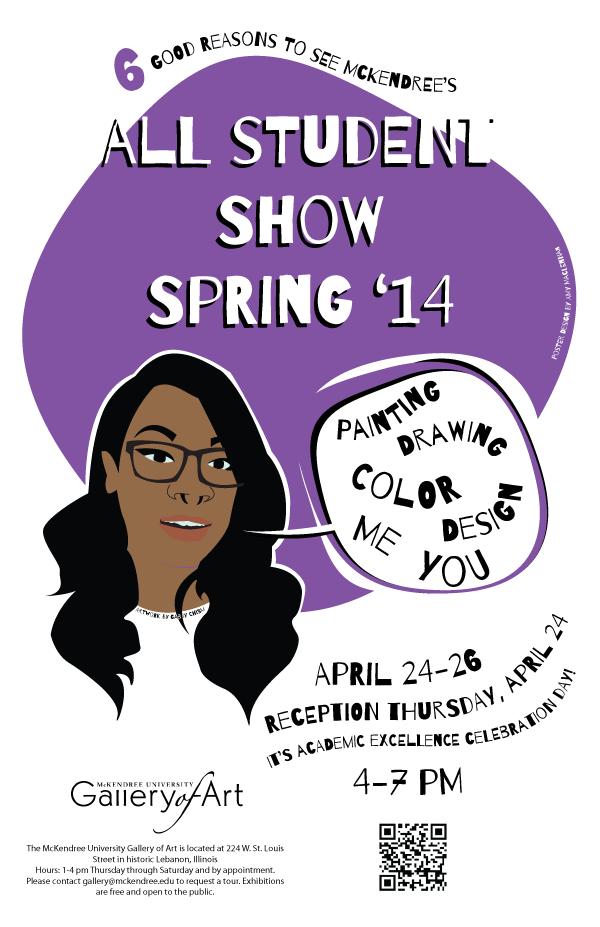 Senior Show
Lauren Bouchard, Kelly Clapper, Meghan Dohogne, Emilye Duncan, Kayla Jenkins, Laura Kanyo, Andrew Kinnison, Kayla Morelan
May 1-15
Opening Reception 4-7 Thursday, May 1